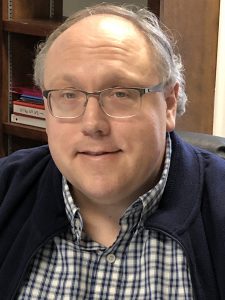 We welcome Pastor Jason Bryant as our new minister in January 2020!

Below is a brief bio about Jason so that you can get to know a little about his history (his full bio was included in the 1/8/20 newsletter).

If you have time, please stop by the office and introduce yourself to him!
Rev. Jason Bryant was born in Columbus, Ohio, to two native North Carolinians and at age 5, his family returned to Charlotte where he was raised in Southeast Charlotte. He attended UNC-Chapel Hill and Emory University before choosing to go to culinary school. Jason trained in the Culinary Arts program at CPCC and after completing the program, he has worked at Charlotte restaurants you may know of: LampLighter and the Pewter Rose.

Jason felt the call to the ministry in 2003, returning to school and graduating from Duke Divinity School in 2007. In May, 2008, he was ordained at First Presbyterian of Mt. Holly as the Head-of-Staff Pastor until 2014. He was then the Associate Pastor at River Hills Community Church in Lake Wylie, leaving in December, 2018, to write his first book.

Jason has been married to Natalie (a local veterinarian) since June, 2005, and they have two children, Benjamin (11) and Lillian (8) and both children attend Mountain Island Charter School.

In his spare time, Jason loves to cook and is a voracious reader. Jason & Natalie are frequent hosts, enjoying sharing their home and a good meal. Jason's most recent passion is in volunteering with Kairos Ministry of S.C.

Although terms of honor are always deeply appreciated, Rev. Bryant prefers to be called either Pastor Jason, PJ (abbreviation of Pastor Jason), or just Jason depending on the congregation's comfort level.

Jason & Natalie are excited to be called to Cook's Memorial Presbyterian Church and are looking forward to the coming years!

We are also very excited to have Jason and his family here at Cook's Church and look forward to getting to know them all better as we serve God together!